Nth Degree Makes Flat, Flexible, Printed LED Lights
28 February 2012
13,733 views
2 Comments
I'm starting to worry that I'm turning into an ostrich.
I'm territorial and ill-tempered. I'm fighting a strange desire to eat shiny objects. And when I get scared, I find myself hiding my face as though not seeing whatever is scaring me will make it go away. And this may or may not be related: I'm developing a strong aversion to light bulbs.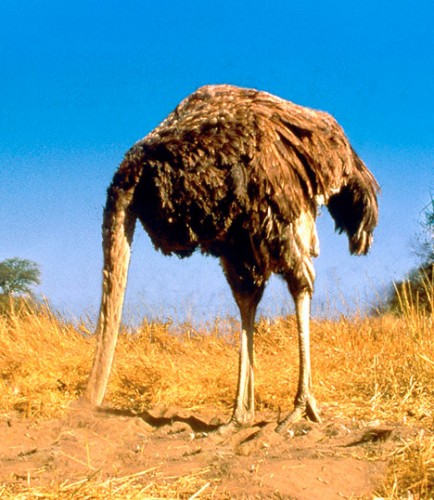 Image courtesy http://www.ostrichheadinsand.com/
A company called Nth Degree Tech may be able to help me out with that last problem. They're seeking to replace light bulbs with their first commercial product, a two foot by four foot LED light sheet that's flat and looks like a glowing piece of paper, which they plan to ship to customers for evaluation by the end of the year (Bullis). This is an exciting development, since it would allow lighting designers to get freaky with curved or unusually shaped light-emitting surfaces – at a price point comparable to the current cost of fluorescent light bulbs and fixtures.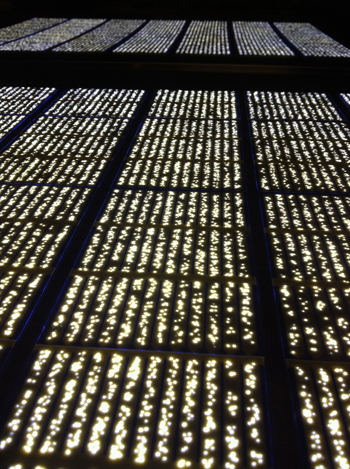 Image courtesy Nth Degree Tech
To make their snazzy new lighting material, Nth Degree workers carve up "a wafer of gallium nitride to produce millions of tiny LEDs—one four-inch wafer yields about eight million of them. The LEDs are then mixed with resin and binders, and a standard screen printer is used to deposit the resulting 'ink' over a large surface" (Bullis).  They toss down a layer of silver ink for the back electrical contact, add a layer of phosphors that alter the color of the light emitted by the LEDs from blue to various shades of white, and then they slap on an insulating layer that prevents those pesky short circuits that can burn out the LEDs.
The front electrical contact is made with an ink containing invisibly small metal wires, which makes it transparent and allows light through the layer.  The transparent electrical contact ALONE could be the subject of an entire article, since it's unspeakably awesome. Its awesomeness derives from the fact that it may eventually replace the brittle and often testy indium tin oxide (ITO) sheets that have been used in touch screens and electroluminescent assemblies in the past. ITO can be expensive, it can't be printed and it's not at all flexible – it deserves to be made redundant.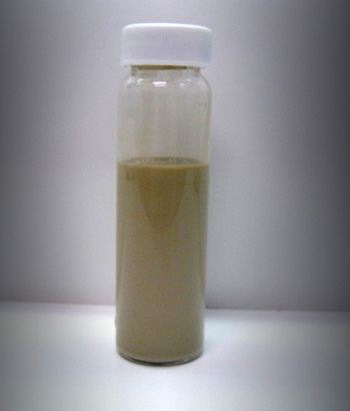 Image courtesy Nth Degree Tech
While printing with inks that are comprised of "tiny working LEDs produces much brighter light than depositing powders or thin films of electroluminescent material," Nth Degree's light sheets don't match the best LEDs available today, which emit over 200 Lumens per watt.  The sheets are better than incandescent lights in terms of efficiency, emitting 20 lumens per watt, but they're not as good as fluorescent lights just yet, which emit 80 lumens per watt (Bullis).
The new design won't require heat sinks the way current conventional LEDs do because the lights are distributed evenly and in a thin layer, meaning that they do not get hot.  The downside is that the tiny LEDs need a pretty robust power source and as a result, Nth Degree's first light fixture will be two inches thick despite the fact that the light-emitting surface is thin and flexible (Bullis).  I'm not letting that ruffle my feathers, however, since I'm betting that the whole assembly will get thinner over time.
Filed under FIRE because it lights up!
Cited:
Bullis, Kevin. "Lighting Sheets Made of Tiny LEDs" Technology Review Online. 10/28/11. Accessed 02/24/12. URL.