Articles tagged with: phosphorescent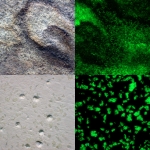 There's something magic about things that glow – they're suprising and delightful.  Think of that moment at the aquarium when you turn a corner and encounter a darkened tank illuminated by a school of luminous fish darting hither and yon, or nights spent staring up at a bedroom ceiling covered with constellations of glowing stick-on stars.
VergeLabs, an architecture and design practice based in the United Arab Emirates founded as a partnership between Ginger Krieg Dosier and Michael Dosier, brought some of that magic to concrete with their development of Glowcrete.
Image courtesy Vergelabs
The researchers used phosphorescent …