Radiant Light Film: Learning to Make Rainbows from Butterflies
10 January 2012
10,591 views
No Comment
Sometimes the beginning of the year is a little bit … well … boring. Everyone is working out at the gym and eating healthy green foods, and even though the sun still sets at an ungodly hour, all the festive holiday parties are over.  This admirably disciplined January attitude is great for working off all the pfeffernüsse you shoved in your face and chased with rum-laced egg nog at your Aunt Betty's house in December, but if you're not careful all of this new-found rigidity and focus could negatively affect your work.  So if you're looking to spice up your latest facade design and hey – maybe even your life in general this month, then take a gander at this intriguing "multi-layer, polymeric reflective film that reflects 95%+ of visible light" and that can be used to create snazzy chrome-like, multicolored, and metallic effects in plastics (Source: Inventables.com).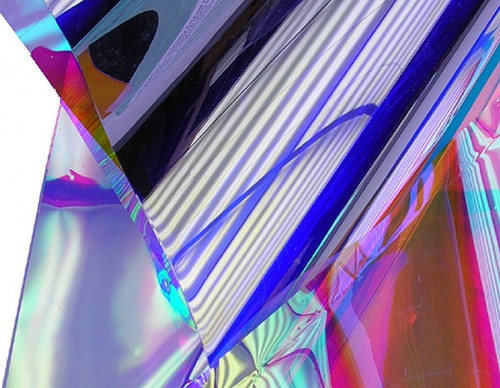 Image courtesy UT Materials Lab & 3M
Radiant light film contains no metal whatsoever, so it's non-corroding, thermally stable, non-conductive, and won't produce electro-magnetic interference; it's a well-mannered material that manages to create a striking effect with a minimum of fuss.  Taking a cue from butterfly wings, the colors in the film are created NOT through the use of pigments but rather through a series of microscopic ridges spaced a few hundred nanometers apart. Variations in the spacing of the ridges produce a range of colors (blue to magenta to gold) though the reflection and interference of different wavelengths of light, and as a result the material appears to change hue as you adjust your viewing angle.
Radiant light film is nothing if not versatile: it can be "embossed, die cut, sheet slit, precision cut, surface treated, dyed, coated to be heat sealed, coated with adhesive, printed and extruded into plastics. It can be combined with suitable color substrates to produce various vibrant colors in both reflection and transmission" (Inventables.com).  Hell – you can even turn the stuff into yarn and knit it into a sweater if you're so inclined, according to manufacturer, 3M.
UN Studio's La Defense, Almere
Technology: 3M Radiant Colour/Light Film.
Using radiant colour film to create interference colour.
So far the film has found applications in home décor, packaging, automotive trim and accents, computers, mobile phones and advertising media, and inspired by UN Studio, I think we should wrap some buildings with it. And then let's go have some cookies because we all knew I'd never make it to March let alone 2013 on this ridiculous salad-filled healthy diet and I'm sore from doing pushups.
I have filed Radiant Light film under Water and Wood. It's flexible, reflective, and it interviews well.
Get Radiant Light Film from Inventables.