Lace Fence: Demakersvan's take on Chain Link
15 February 2010
14,156 views
4 Comments
Zbornak
 on
Golden Girls
:  brutally honest, tall, and often topped with barbed wire.  Efficient and not terribly expensive, chain link isn't the kind of fence that the poet Keats would have written home about.  But then again, would the poet Keats have been interested in any fence that wasn't constructed entirely out of Grecian urns and coated with fluttering nightingales?  It's hard to say.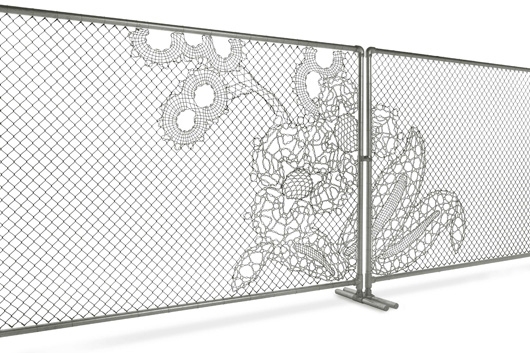 Photo by Joost van Brug
Dutch design firm Demakersvan has produced a line of chain link fence that incorporates the ancient craft of lace-making into the fabrication of industrial chain link fence, taking something which was meant to be purely functional and gently encouraging it to be decorative.  Think of Lace Fence as your Blanche Devereaux fencing option:  it's a flirty southern charmer with a stubborn streak and perhaps a little bit of a temper.  Lace fence comes in a variety of patterns – antique lace florals and contemporary designs – and Demakersvan will work with clients to create their own patterns.  "The design and density of the patterns are flexible, so fence panels and patterns can be custom-fitted for each application.  Lace Fence can be designed to prevent climbing, to hide or enhance its surroundings, or to deal with harsh weather.  Each solution leads to a unique custom look" (Demakersvan).  I like the idea that something that makes the fence more attractive also makes it more effective.   
Photo courtesy Demakersvan
Lace Fence is manufactured in Bangalore, India, and it's available in galvanized iron or PVC coated with an outside wire diameter of 2.5 and 3mm respectively.  Both types are suitable for indoor as well as outdoor use.  The galvanized wire has a steel core with high standard zinc coating (273gr/m2) and the chain link fence is available in mesh width 40x40mm or 50x50mm.  The two original Demakersvan colors for Lace Fence are Ral 9016 (white) or galvanized, although other colors are available by request. Lace Fence has been tested for strength and durability by a sand bag impact test, and I have a feeling that the sandbag didn't fare too well.
Image credit Demakersvan
Demakersvan puts it this way:  "Industrial production is for us a big source of inspiration.  The Big Miracle of how some products come about is a beautiful phenomenon if you look at it closely. In our projects we often combine the sensitive and the small with the powerful, large and industrial.  The Lace Fence project translates that line of thinking.  Fencing is a sign how we modified and cultivated our environment.  Like brambles fences are rising rampantly around us.  What would happen if a patch of embroided wire would meet with  and continue as an industrial fence. Hostility versus kindness,  industrial versus craft."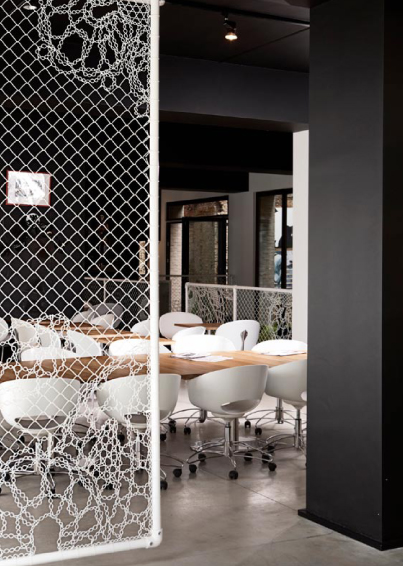 Photo by Joost van Brug
I'll leave you with a line from the poet Keats: "Beauty is truth, truth beauty, — that is all Ye know on earth, and all ye need to know."
WU XING:
I'm placing Lace Fence in the metal category because that's what it's made of.  But I think it's even more essentially a metal because it exploits the characteristics of the element: it's tough yet ductile, strong and beautiful.
Cited:
Thanks to Demakersvan for providing the information for this article!
Keats, John. "Ode on a Grecian Urn."  The Literature Network.  Accessed 02/15/10.  URL.
Standard issue chain link fence is in many ways like the late Bea Arthur's character Dorothy