Solid Poetry: Patterns Revealed in Concrete When Wet
29 November 2011
9,565 views
No Comment
The grass is always greener – except when it doesn't rain appreciably for three straight months, as was the case this summer where I live in Texas. Here, the grass was golden brown, parched, dessicated and crunchy like a stale sugar cookie or gauze belonging to a dried out ancient Egyptian mummy. As summer wore on, I found myself desperately squinting up at the blazing blue sky, searching in vain for the faintest hint of cloud formation. We were facing the kind of heat that makes standing on black pavement completely unbearable; the asphalt melts rubber shoe soles and causes low level leg hair to spontaneously combust. As I watched the tree leaves bake to brown and tumble end over end to the ground in defeat, I wished more than anything for rain.
Image courtesy http://howlinghooligan.blogspot.com
I imagine that in places like Seattle, or the Netherlands, where Frederik Molenschot and Susanne Happle developed a new water-activated concrete product they call Solid Poetry, people don't stand around hoping for rain because the odds are good that it's already falling from the sky. And now that it's raining again in Texas, I can see many more applications for this innovative, delightful smart material. When dry, Solid Poetry appears dull and chalky – indistinguishable from standard concrete.  But just add water and suddenly hidden decorative floral and leaf patterns appear, lingering only as long as the moisture level at the surface of the concrete remains high.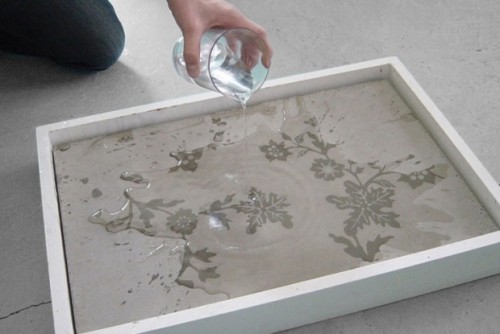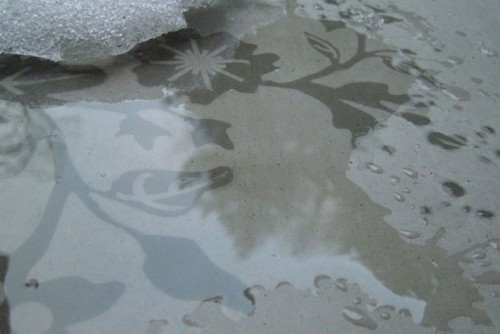 Images courtesy www.studiomolen.nl
Happle came up with the idea while on a walk, where she observed leaves blow off of wet pavement leaving an inverted shadow image of lighter concrete behind. She writes:
"Whenever the weather changes the landscape transforms; the light becomes different and the whole atmosphere changes. All materials seem to alter. In my project I explore the possibilities for hidden design appearing as the environment changes. I applied techniques to enduring and solid materials as glass and concrete, so that natural processes like differences in temperature causing condense reveal patterns on windows. Rain uncovers decoration on a city square. The possible applications of solid poetry are various: either at home in the bathroom, in the garden, in saunas and dance clubs, where the humidity is high or public spaces like bus stops or pavements. All forms of solid poetry have in common that they change the whole setting; they are surprising and have a life of their own."
If you're like me, now that you've heard about Solid Poetry you'll spend more than a few minutes doodling custom patterns for use in a dream bathroom.  But while custom and cast-in place patterns are possible with the system, the prefab repeating modules are what allows Solid Poetry to scale as a mass-produced, store-ready proposition ripe for commercial distribution. To learn more, treat yourself to this short video:
I am filing Solid Poetry under earth because it's concrete and water because that's the reason the concrete goes all magic and mystical.
Cited:
"Beautiful Concrete by Solid Poetry" Ronamag. 11/08/11. Accessed 11/29/11. URL.