New Fully Stretchable OLED Will Make You Crave Taffy
10 November 2011
11,970 views
No Comment
Yesterday I bent over in the attempt to tie the absurdly bright purple shoe laces on my almost offensively bright purple sneakers and made a startling discovery: I'm not as flexible as I used to be.  In fact, the overwhelming tightness of my hamstrings makes your standard British upper lip look positively floppy; and as I fired up my smartphone to schedule some emergency yoga I was reminded that I had yet to share an amazing new fully stretchable OLED display recently developed at the University of California, Los Angeles, a place where they know a thing or two about screens.
OLEDs or Organic Light-Emitting Diodes are great technology for screens primarily because they work without a backlight and can display deep black levels for high contrast.  OLED displays can be manufactured thinner and lighter than liquid crystal displays (LCDs) and "in low ambient light conditions such as dark rooms an OLED screen can achieve a higher contrast ratio than an LCD, whether the LCD uses either cold cathode fluorescent lamps or the more recently developed LED backlight. Due to their low thermal conductivity, they typically emit less light per area than inorganic LEDs" (Source: Wikipedia). What it all boils down to is that OLEDs are the bees knees. FACT.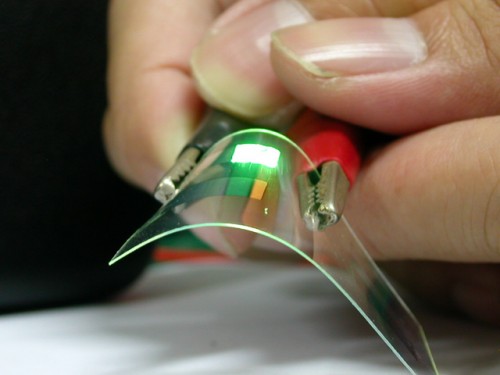 Image courtesy wired.com
Once researchers saw how thin they could make OLEDs it was only a matter of time before people starting thinking about how to make them flexible. Stretchable electronics open up a world where video displays get rolled up and stuffed in your pocket, electronic sheets drape like cloth, electronics grow and shrink on command, and the mighty condor gets taken off the endangered species list.
Early attempts at stretchable electronics resulted in prototypes that connected rigid LEDs with stretchable material and others that bent but couldn't stretch. The challenge researchers faced was how to ensure that the electrode could maintain connectivity while being deformed since many conductive materials can't stretch nearly as far as one might like.  Enter the humble yet versatile carbon nanotube: it's stretchable, conductive, appears transparent in thin layers, and it usually picks up the check after lunch dates.
The fly in the nanotube ointment, so to speak, is the fact that carbon nanotubes must be attached to a surface; the attachment can be tricky to pull off since when applied to a plastic backing nanotubes have a tendency to slide off or even slide past each other when the backing is stretched. To evict said proverbial fly from said proverbial ointment, the UCLA researchers created a carbon nanotube and polymer electrode layered on a stretchable, light-emitting plastic.
The researchers "coated carbon nanotubes onto a glass backing and added a liquid polymer that becomes solid yet stretchable when exposed to ultraviolet light. The polymer diffuses throughout the carbon nanotube network and dries to a flexible plastic that completely surrounds the network rather than just resting alongside it. Peeling the polymer-and-carbon-nanotube mix off of the glass yields a smooth, stretchable, transparent electrode" (Grifantini).  I imagine that the carbon nanotubes embedded in the plastic stretch at roughly the same rate, and that the plastic keeps to itself mostly and doesn't interfere with the ability of the nanotubes to conduct electricity.
Image courtesy pcworld.com
The team sandwiched two layers of carbon nanotube electrode around another plastic that emits light when current runs through it.  Researchers obtained a laminator from a local office supply store to press the layered device together so that it could be handled safely in the presence of electric current.  As an aside, we did the same thing when we screen printed an electroluminescent lamp in Switzerland this summer and were hoping to not get electroshocked by the circuits. (More on that soon).  In contrast to our electroluminescent display, the flexible OLED created by the UCLA team can be stretched by as much as 45 percent while emitting a colored light.
Their prototype is a two-centimeter square that emits a one-centimeter square brilliant sky-blue light that stretches like silly putty until it loses conductivity due to being stretched too far or too many times (Grifantini).  The researchers also made a prototype using silver nano wires (which are more conductive than nanotubes) that exhibits similar stretching properties but is even more conductive.  Their layered approach is a great idea, not least because it's easy to imagine how the process could be scaled up for production.  Now if only those scientists could help me with my hamstrings….
I have filed stretchable OLEDs under Water, Wood and Fire because they're flexible, stretchy, and they light up.
Cited:
Grifantini, Kristina. "The First Fully Stretchable OLED." Techreview.com 08/26/11. Accessed 10/05/11. URL.
Watch video: Stretchable OLED – Tech Review