I Heart MIT's New Flexible, Printable Solar Cells
13 July 2011
4,270 views
One Comment
Aeroflot
sound appealing by comparison).
I resent the noise of the printer, printer jams, shaking the toner cartridge, the harsh chemicals involved, and the amount of electricity it takes to print on a sheet of paper. I resent those things with the heat of a thousand suns.
But … just when I believed that I had calcified in my negative stance on all forms of printing, I learned that MIT engineers recently revealed a process they've developed to produce printed solar cells.  Their flexible cells can be printed on paper or fabric and folded over 1,000 times without losing efficiency, and they're not energy-intensive to produce!  I was cautiously optimistic: maybe, I thought, printing doesn't have to be completely evil?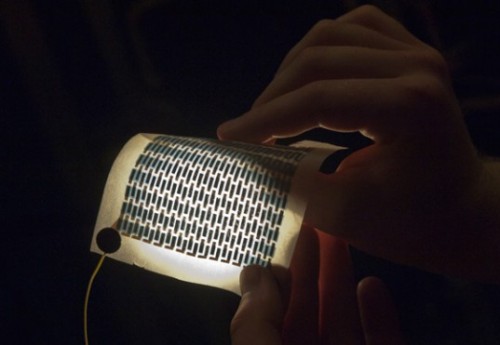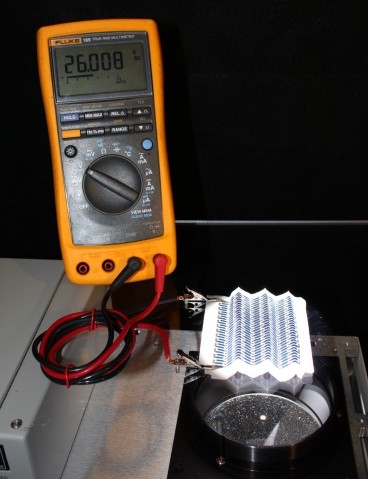 Photos: Patrick Gillooly/MIT
The creation of typical solar cells involves exposing substrates to intense chemicals and high temperatures, which necessitates a whole lotta energy consumption.  MIT's new fancy solar cells "are formed by placing five layers of material onto  a single sheet of  paper in successive passes. A mask is utilized to form the cell patterns, and  the entire printing process is done in a vacuum chamber" (Singh).  Fabric and paper substrates weigh less than the glass and other heavy backing materials that are typically used, and researchers think that they're well on the way to developing scalable cells for use in photovoltaic arrays.
So here's what I'll say: the day my office printer can power itself by printing out solar cells is the day I will let go of these negative emotions and learn to forgive.
Click  here to see the technology in action (via Inhabitat).
I have filed MIT's solar cells under water (because of the gentle process) and wood (because they're flexible and can be printed on paper). And also, privately, under awesome.
Cited:
Singh, Timon. "MIT Unveils Flexible Solar Cells Printed on Paper." Inhabitat.com 07/11/11. Accessed 07/12/11. URL.
My desk at work sits across from an ancient beige laser printer the size of a Volkswagen, which pretty much unceasingly spews toner particles, artfully arranged on tabloid- and letter-sized sheets of paper, out of its graceless plastic maw. I bring this up because the adjacency has driven me to resent general workday printing even more than the occasional trip to the plotter (which, if you have never tangled with a large-format printer, makes a fourteen hour trip on