New Color-changing Microsensor Material Detects Volatile Organic Compounds
2 May 2011
4,541 views
One Comment
When I think about a gas mask, for some reason my mind flits to a memory of a series of drawings by British sculptor Henry Moore, which I encountered at the Hirshorn while wandering through the Smithsonian one afternoon during college. The London Underground functioned as a shelter during WWII, and Moore made a series of dark gray moody drawings that convey his experiences sleeping in the tunnels along with thousands of other Londoners at the height of the Blitz.  I'm not really sure if any of the drawings actually depicted people wearing gas masks, but that feeling of darkness and suffocation seems like it might be the common thread.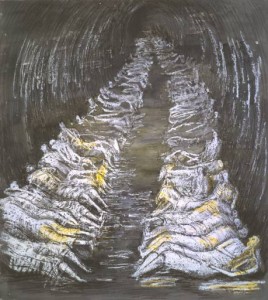 Image courtesy www.tate.org.uk
You may be asking yourself why on earth a person would be thinking about gas masks on a rainy morning while conducting materials research; let me assure you it's not because somebody forgot to take out the garbage last night (but seriously, how hard is it to take out the trash!?)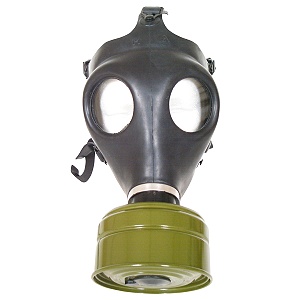 Image courtesy thesurvivalzone.com
Gas masks and respirators, worn by emergency response teams and others who require protection from harmful vapors, contain carbon filters (activated charcoal), which traps the toxins before they can enter the lungs. The problem is that once the carbon filter saturates, it allows harmful chemicals to fly on through the canister without so much as a by-your-leave. Emergency workers currently rely on safety protocols that describe the length of time a gas mask can be worn without changing the mask, but there are too many variables to be completely certain that the charcoal filters are working.
In response to this problem, researchers at the University of California, San Diego working with Tyco Electronics have created a new kind of sensor from carbon nanostructures that could be used to warn emergency workers when the filters in their respirators have become saturated and no longer offer adequate protection. The new microsensors can provide a more accurate reading of how much material has been absorbed by the carbon in the filters (R&D Magazine).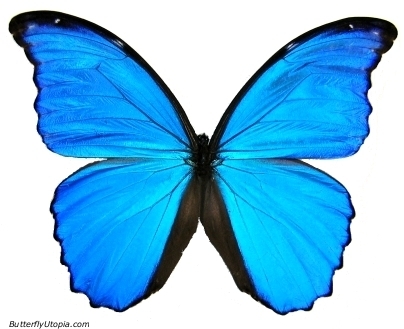 The researchers "assembled the nanofibers into repeating structures called photonic crystals that reflect specific wavelengths, or colors, of light. The wing scales of the Morpho butterfly, which give the insect its brilliant iridescent coloration, are natural examples of this kind of structure.  The sensors are an iridescent color too, rather than black like ordinary carbon. That color changes when the fibers absorb toxins – a visible indication of their capacity for absorbing additional chemicals" (Brown). You can learn more about the nanoscale structures that make up butterfly wings here.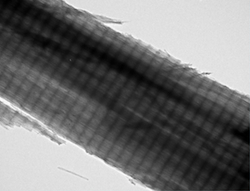 Image: Timothy Kelly, UCSD Chemistry and Biochemistry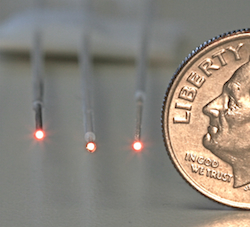 Image: Brian King, UCSD Chemistry and Biochemistry
The UCSD team fabricated nanotubes that are less than half the width of a human hair.  The photonic sensors can be placed on the tips of optical fibers less than a millimeter across, and can be inserted into respirator cartridges.  According to the researchers, the crystals are sensitive enough to detect chemicals such as toluene at concentrations as low as one part per million (R&D Magazine).
I think these sensors have a wider applicability than just gas masks, however.  Green Building certification systems such as LEED or Green Globes give points for "flushing" a building after construction but prior to handing it over to occupants in order to lower the concentration of volatile organic compounds being emitted by things like paint, adhesives, carpet, plastics, etc. Imagine if you could tell by looking at the color of a sensor whether a building is safe to inhabit from a VOC standpoint?
Filed under fire and wood – because of the carbon and the charcoal.
Cited:
Brown, Susan. "New Material Could Improve Safety for First Responders to Emergencies." UC San Diego News Center. 04/29/11. Accessed 05/02/11. URL.
R&D Magazine. "New Material Could Improve Safety for First Responders to Chemical Hazards." 05/02/11. Accessed 05/02/11. URL.