Power your Home – Turn Over a New (Solar Cell) Leaf!
5 April 2011
3,514 views
One Comment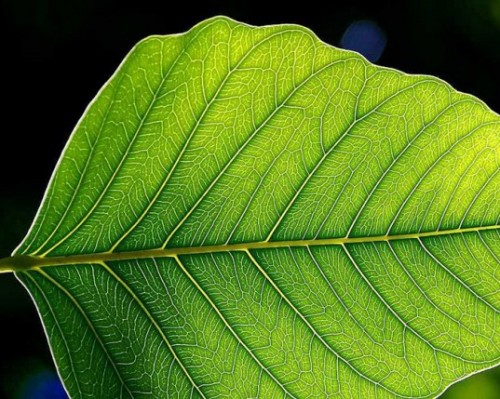 Image credit wikimedia commons
Leaves are little factories that power the growth of trees and other plants.  But what if we could use leaves to power our homes and devices? Scientist Dr. David Nocera (MIT) has developed a low-cost artificial leaf that mimics the process of photosynthesis.  He presented the miniature solar cell at the recent 241st National Meeting of the American Chemical Society, stating that the goal of his research is to "make individual homes capable of becoming their own self-sufficient power stations" (Zimmer).  The leaves would decentralize power generation and reduce the need for expensive infrastructure.
Artificial leaves would allow remote, isolated settlements to connect to the rest of the wired world.  In addition, in areas where electric infrastructure already exists, the leaves could function as furnaces, reducing the demand for high-cost oil to heat homes in the winter.  To this end, the Department of Energy's ARPA-E transformational energy program has partially funded the the research and development of the "leaf" (Zimmer).  Not only that, the artificial solar leaves introduce no additional pollen into the air.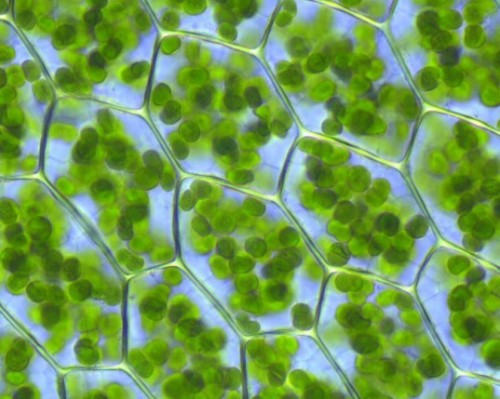 Image credit wikimedia commons
Although the notion of a cell that performs photosythesis has been around for over a decade, it has been difficult to fabricate cells out of inexpensive materials.  The first artificial leaves incorporated rare metals and other materials that rendered them impossible to manufacture on a commercial scale.  "Nocera's model uses inexpensive nickel and cobalt catalysts. These catalysts effectively and efficiently split hydrogen and oxygen at a production rate of about ten times that of one of Mother Nature's leaves" (Zimmer).  A prototype the size of a playing card requires only sunlight and one gallon of  water to generate 45 hours of continuous energy for household use.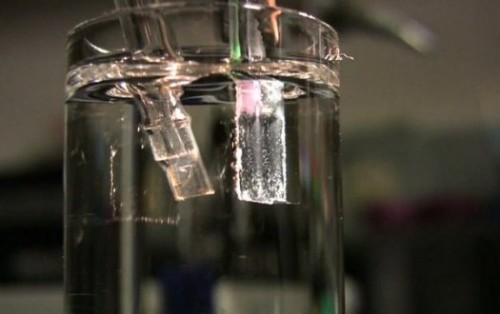 Image courtesy popsci.com
Now that the "leaf" is ready for commercial production and distribution, we may find that in a few years artificial leaves are nearly as common as the ones that grow on trees!
I filed this Solar Leaf under FIRE because it produces useful energy from light.
Cited:
Zimmer, Laurie. "MIT Scientists Create Artificial Solar Leaf that can Power Homes." Inhabitat.com 03/28/11. Accessed 04/03/11. URL.
Here in the northern hemisphere (especially here in the lower latitudes) Winter is receding and Spring is hopping in on little rabbit feet.  What this means, of course, is that we're all sneezing, snuffling, and sniffling due to the staggering amount of pollen flying around in the air we breathe.  Through a fuzzy haze of allergy medication, my itchy red eyes are finally able to gaze at blooming flowers and gorgeous green leaves emerging at last from miniscule buds on tree branches.  The leaves are gearing up to perform the hard work of converting light energy into food – a task they will perform all summer and then wither and die, dropping to the ground to make way for the next cycle.