Metal Alloys you can Blow Mold like Plastic #biwinning
3 March 2011
6,186 views
One Comment
"I got tiger blood, man. My brain…fires in a way that is – I don't know, maybe not from this particular terrestrial realm." – Charlie Sheen
Until this week I thought that Charlie Sheen was your ordinary aging Hollywood actor. Really, if I thought about him at all, I assumed he was working on a TV show, staying tan/undergoing the occasional face lift, failing at some marriages, and I believed that human blood and maybe some high-quality cocaine were flowing through his veins. But now I have a completely different perspective.  Now I know that Charlie Sheen has tiger blood and adonis DNA, and that he is a total freakin' rock star from Mars.  
As if that news weren't enough, I also learned this week that a team of scientists at Yale University have discovered that bulk metallic glasses (BMGs) – which are metal alloys whose atoms are randomly arranged (in constrast with the ordered, crystalline structures found in typical metals) – can be blow molded like plastics into complex shapes that ordinary metal can't achieve without losing any strength or durability (Physorg.com). BMGs are biwinning. They win here, they win there. I can't process this with my normal brain!
Thermoplastic forming of 850 platinum bulk metallic glass (BMG) from BMG pellets (Courtesy of B. Lohwongwatana)
These alloys, made up of zirconium, nickel, titanium, and copper, which look like metal but can be molded as inexpensively and as quickly as plastic have allowed researchers to fabricate a number of complex shapes, including "seamless metallic bottles, watch cases, miniature resonators and biomedical implants-that can be molded in less than a minute and are twice as strong as typical steel" (Physorg.com). Like Charlie, they only have one speed, they have one gear: GO.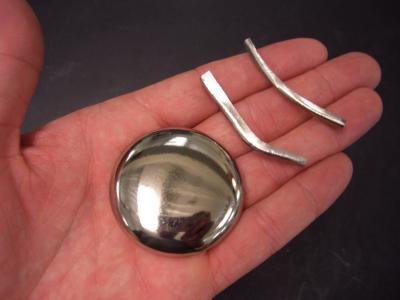 Image courtesy physorg.com
In fluid or a vacuum at low temperatures and pressures, the bulk metallic glass softens and flows like plastic without crystalizing. This allowed the reaserchers to shape the BMGs with unprecedented ease, versatility and precision.  Three separate steps in traditional metal processing (shaping, joining, and finishing) were combined into one step (Physorg.com). BOOM! That's the whole movie. That's life.
If BMGs are as easy to recycle as traditional metals and less toxic than plastics, then they will revolutionize the way we live. Radical.
Filed under metal. (For the win, bro).
Cited:
"Stronger than Steel, Novel Metals are Moldable as Plastic" Physorg.com 03/01/11. Accessed 03/03/11. URL.