Form Us With Love: Hexagonal Wood Wool Cement Board Tiles
22 March 2011
14,236 views
One Comment
When you're a designer, having problems can be a good thing. Well, I suppose I ought to be clear that I am talking about certain kinds of problems (for example, not even
one
of
Jay-Z's 99
problems would qualify). 
FORM US WITH LOVE
, a design collective based in Sweden, turned a problem they were having with an echoing studio space into a partnership with a woodwool cement manufacturer.
Träullit
is a 20-man factory located in Österbymo, "little more than a fleck on the map between Stockholm and Malmö" and it's the only manufacturer of woodwool cement board in Sweden (Träullit). FORM US WITH LOVE realized that the hexagonal woodwool panels they had designed for their studio space might find application beyond schools and stables, and consequently a beautiful relationship emerged fully grown from the head of Zeus, already wearing a toga, and dispensing Athena-style wisdom like so many Pez candies.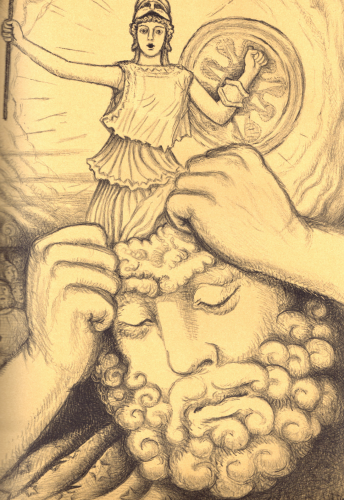 D'Aulaire Drawing of Athena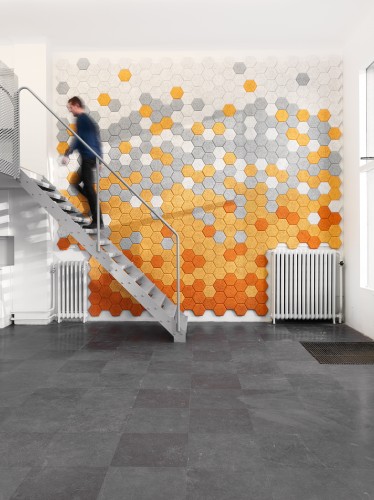 This and all subsequent images courtesy Träullit
Woodwool cement may sound a little odd, but the name perfectly describes the product: it's wood fiber (in this case, more specifically, Spruce) that looks like tangled wool fibers, and which is bound together with cement.  The manufacturing process is relatively simple: wood slivers are cut from logs, mixed with water and cement, and put in molds to set into shape. Wood fiber gives the product a heat-insulating, heat retaining and sound-absorbing properties. The cement binder provides strength, moisture resistance and fire protection.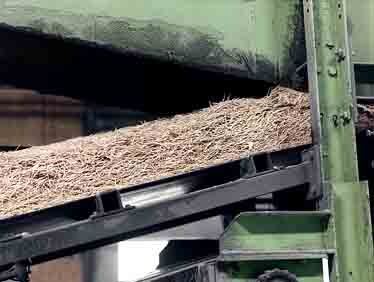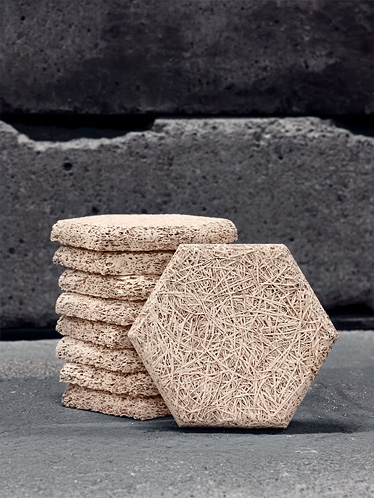 According to the product data, woodwool evens out humidity levels in spaces where it's installed by "absorbing moisture from or emitting moisture to the ambient air. This contributes to a pleasant indoor climate which is good for both comfort and health. The high pH value also discourages mould and the material is not affected by rot" (Träullit).  The woodwool panels also store heat from the ambient air and emit it when the air temperature falls, presumably due to an increase in the thermal mass of the wall systems to which they are applied.  If that is true, installing the panels could lower energy costs and reduce environmental impact. I like the idea that applying an inert material to the walls could affect indoor air quality – I have an utterly miserable dehumidifier in my apartment and it's a noisy energy hog with only one function.
Woodwool panels contribute to the quality of the indoor environment in so many ways: the open cell material structure reduces reflection of sound, dampening noise and contributing to "restful acoustics in residential buildings, industrial premises and public spaces" (Träullit).  Another aspect of this product that I love is the fact that you can vacuum the panels to clean them, and they don't emit dust or particulate matter.
FORM US WITH LOVE came up with a hexagonal panel design that "complements the practicality of the material, creating a simple but striking product" (Träullit).  They plan to introduce new shapes and colors every year, and you can order the 2011 collection now.  The 19 x 21cm  hexagons come in a range of earthy colours with nature-inspired names: cloud, moss, leaf, sky and stone.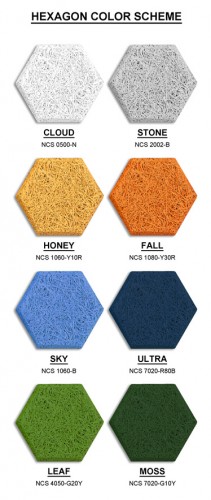 Träullit Dekor panels are designed to attach to your walls magnetically.  The tiles are supplied with magnets affixed to the back, and adhere to thin metal sheets that are applied to the wall surface.  They can be fixed by hand and rearranged at any time.  They can also be fitted to walls with screws or glue. Check out their website where you can play with a nifty little tool that will let you design your wall!
WU XING:
I have filed woodwool cement board under wood and earth.
Cited: