FibreC: Thin Slab Concrete Siding that May Settle the Wood vs. Brick Debate
9 February 2011
7,026 views
One Comment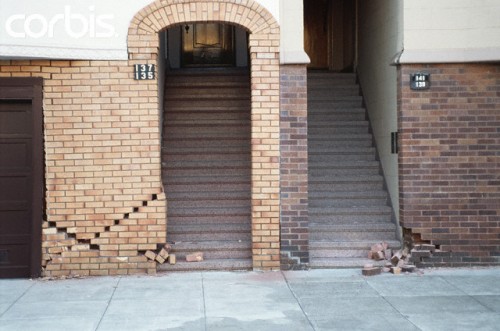 Image by © Roger Ressmeyer/CORBIS
In Northern California, the brief periods between earthquakes are made lively by a counterpoint of alternating floods and wildfires. The floods lead to mudslides, and there isn't much any material on the facade can do to prevent an entire building being carried down the hillside by the hill itself. The wildfires, however, delight in ingniting wood cladding, and it is in the fireproofing arena that a brick facade has the leg up. So what would you choose? A flexible material that resists damage in the event of an earthquake or a rigid material that cracks under shear stress but that stands up to fire?
The answer, of course, is yes – meaning that you'd choose a material that is both flexible AND fireproof. Reider, a family-owned Austrian concrete manufacturing company, is making just such a material at this very moment in its factories, which you have to imagine must be surrounded by edelweiss and roving melodious von Trap children.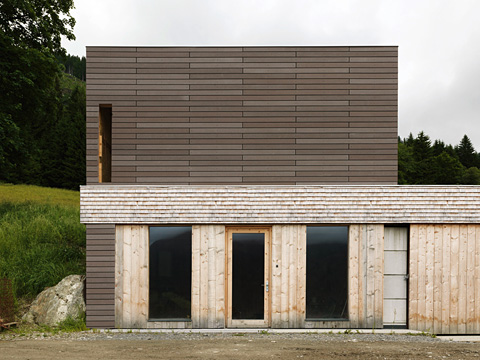 Image courtesy Stylepark
FibreC is a fiberglass-reinforced concrete panel that can be used for outside facades as well as indoors. It's a "thin-walled material with a pleasant feel and natural look" that is resilient and at the same time flexible, rendering it suitable for a wide range of practical applications (Stylepark). FibreC has been available in large panels for quite some time, and now it's also being manufactured in the shape of thin slats. This new shape means that FibreC is a fireproof alternative to wooden panel cladding! Reider touts it as a sustainable material because it's made of sand, cement, and glass fibers, and the manufacturing process is reportedly eco-friendly.  FibreC comes in a wide range of colors and a few different finishes: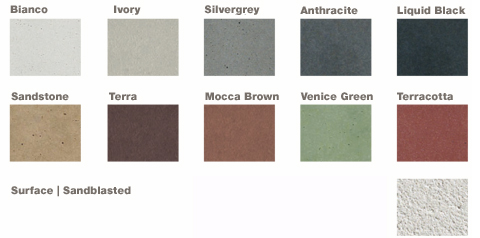 Image courtesy Stylepark
FibreC was used by Architects Alan Dempsey and Alvin Huang, who won a competition to design a temporary, freestanding pavilion that was built in front of the Architectural Association school in London.  The high tensile strength of FibreC allowed the development of a "simple interlocking cross joint which is tightened by slightly bending each element as it is locked into consecutive cross elements. Consultation with the Fibre-C technical department in Austria has suggested that a flex of 15-20mm per metre can be applied without affecting the structural performance of the material. The appearance of small micro cracks on the surface is mitigated by using lighter material colours and a Ferro finish" (Dezeen).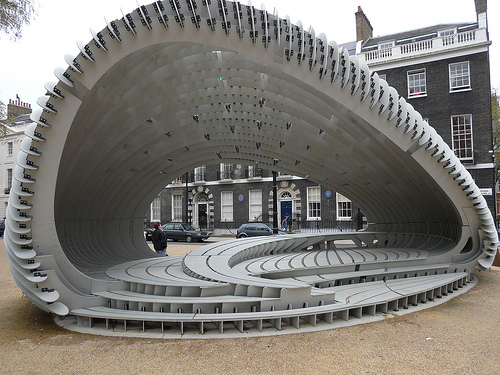 Image Courtesy Loz Pycock
The pavilion was fabricated from curved profiles nested on standard 13mm flat sheets and cut with a water jet.  I think the effect is rather splendid, and it's certainly not a fire hazard. Thanks to David Conover of StudioConover for sending me info on FibreC!
I filed FibreC under earth (because of its composition) and fire (because it's fireproof).
Cited:
"Slab Format Thin Concrete." Stylepark.com. 01/10/10. Accessed 02/07/11. URL.
"C Space Pavilion by Alan Dempsey and Alvin Huang." Dezeen.com 11/04/07. Accessed 02/09/11. URL.
I grew up in Northern California, and I suppose I like the look of structures clad in wood because they're comfortable and familiar. Wood works wonderfully in that earthquake-riddled part of the country because it's flexible and can handle the forces imparted by the occasional seismic event better than a brick facade.  Brick is great, but it can't be denied that it will undergo a complete nervous breakdown when placed under unusual stress. More often than not, wood faced with lateral forces takes a deep breath, squares its shoulders, and carries on with the vital business of protecting building interiors from the unending onslaught mounted by the elements.