FIX IT! A Self-healing Polymer Material Embedded with a Fiber Optic Network
14 December 2010
7,204 views
One Comment
Stairs are challenging enough for adults at times, but I distinctly remember how hard it was to climb them when I was little.  When you are small in stature, 7″ high risers hit at mid-thigh and most of the time you have to take each stair on all fours.  Many of the epic, all-out "Alli versus the Stairs" battles ended with a small, defiant child celebrating wildly on the second floor, but sometimes things didn't go my way.  On the days that the straight run, open tread, carpeted monster was my Waterloo, I would find myself tumbling head over heels, going bump bump bump all the way down, only to find myself sprawled out on the ground floor covered with scrapes and rug burns.  But here is one of the things that makes being a living creature so incredible and fantastic: I didn't have to wait for someone to come patch my skin up after an accident on the stairs.  Because  – wait for it – skin heals itself.
Until recently, most materials we've used for building structures have been incapable of significant self-repair.  When the roof of a stadium collapses due to the immense weight of drifting snow, the structure just waits for us to come fix it.  But now some researchers working at Arizona State have developed a "self-diagnosing, self-healing material that can sense the presence of damage and regenerate itself…. Like a biological structure, this "autonomous adaptive structure" could be used to develop usable composites that are self-healing, halting the progression of cracks or damage and regenerating material wherever needed to re-strengthen the structure" (Dillow).  Materials that can find and repair their own scrapes and rug burns will last longer and look better while they last: think of the concept as an anti-aging strategy for buildings.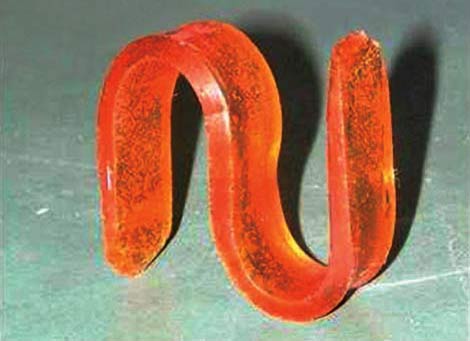 Image courtesy pingmag.com
The autonomous adaptive structures coming out of Arizona State are made from "shape memory" polymers embedded with a fiber-optic network.   When the material tears or is otherwise damaged, the fiber optic network detects the problem.  An infra-red laser transmits light through the network, delivering heat to the affected area.  The shape memory polymers return to a pre-defined shape when they reach a certain temperature, so the heat from the fiber optic network can be used to close up cracks and tears in the material.  This allows it to regain up to 96% of its original strength.  The shape memory polymers are programmed to toughen up to 11 times, and self-healing action can take place while the material is operational (Dillow).  If the roof of the Metrodome had been able to toughen in response to deformation while self-healing rips and tears, the Vikings might have been able to play there this week.  On a side note, Bret Favre's body has apparently lost its self-healing capabilities.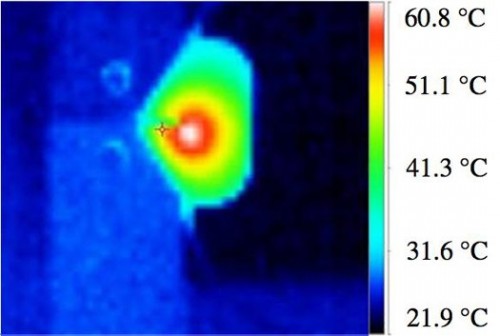 Image courtesy popsci.com
More relevant, this week at MIT scientists have at last been able to mathematically model shape-memory polymers in detail, meaning that "applications like implantable medical devices or space materials that can be compacted into tiny packages and then automatically expanded into complex structures once they're aloft" are now possible (Dillow).  The video below illustrates how shape memory polymers work.  I applaud the display of materials science awesomness coupled with school spirit.
I've filed self-healing polymers under Fire and Wood because of the lasers and the flexibility of the shapes.
Cited:
American Institute of Physics. "Self-healing autonomous material comes to life." ScienceDaily 7 December 2010. 13 December 2010.  URL.
Dillow, Clay. "New Self-Healing Materials Detect when They're Damaged and Fix Themselves." Popsci.com 12/09/10.  Accessed 12/13/10.  URL.