Is there a Cloud in Here or Should I Get Checked for Glaucoma?
11 November 2010
3,222 views
No Comment
Water.  The universal solvent. H2O.
It's refreshing and highly necessary, but water in the wrong place at the wrong time can cause catastrophic problems in buildings.  It's easy to envision the kind of damage inflicted by a flood, or by ten feet of snow on a roof designed to support six, or even by corrosion caused by salty ocean water at the seashore.  But the reason we wrap our buildings in fancy hi-tech paper and smear them with liquid waterproofing has more to do with the insidious effects of water vapor and intra-wall condensation.  I personally do not enjoy intra-wall condensation, but I'm told that mold does.
It's impossible to stop water vapor moving though a building, not to mention the fact that we actively invite liquid water inside because we want to be able to turn on sinks and sip delicately at water fountains.  But I didn't believe that an architect would go out of his way extend a handwritten invitation complete with SASE for RSVP to water vapor begging it to come inside a building, until I saw the evidence with my own eyes.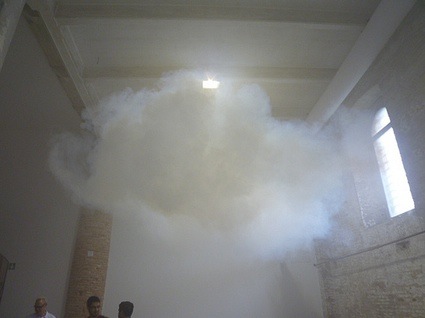 Images courtesy www.gizmodo.com
Architect Tetsuo Kondo worked with climate engineering company Transsolar to create Cloudscapes, an amorphous artificial cloud trapped inside the Corderie, a 319-meters long space once used to make ropes and cables for the Italian navy.  The Corderie has been appropriated for use by the Venice Biennale, an international exhibition of the arts and architecture (Diaz).  The Biennale runs through November 21, 2010, so if you're in Venice I highly recommend checking it out!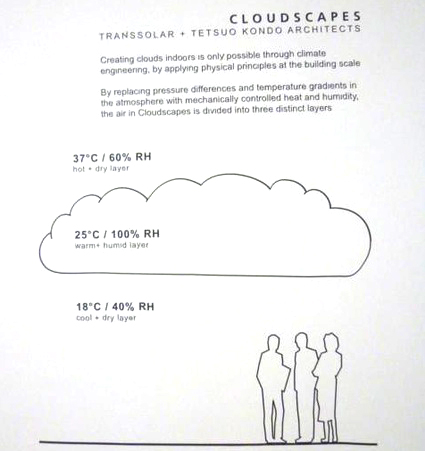 Image courtesy www.we-make-money-not-art.com
But to get back to the cloud, Transsolar designed a system wherein three layers of air at different humidity and temperature points were pumped into the massive space.  The cloud forms in a humid layer of air sandwiched between dry air at two different temperatures; there's cool dry air at the bottom, then the hot humid cloud layer, and then hot dry air at the top (Regine).  Kondo's installation treats a cloud like a building material, using it to frame space and filter light.
"Visitors can experience the cloud from below, within, and above as they climb up 4.3 meter high helical ramp erected in the center of the room. The cloud is based on the physical phenomenon of saturated air, condensation droplets floating in the space and condensation seeds. The atmospheres above and below the cloud have different qualities of light, temperature, and humidity, separating the spaces by a filter effect. The cloud can be touched, and it can be felt as different microclimatic conditions coincide" (Regine).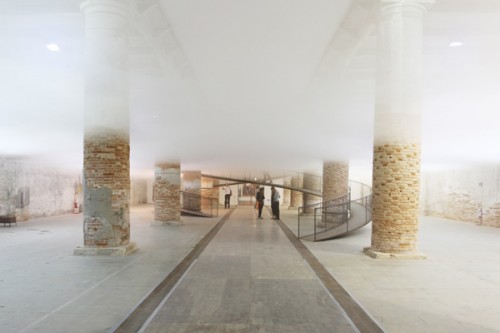 Image courtesy www.gizmodo.com
Cloudscapes reminds me of other projects that take advantage of the unique properties of water, such as ice hotels.  And it's good to remember that the precise temperature and humidity controls that allowed Transsolar to engineer a cloud could probably also be reconfigured to remove unwanted cloudiness in other situations!
Check out the video:
Water. Natch.
Cited:
Diaz, Jesus.  "There is a Real Cloud Trapped Inside this Building." Gizmodo. 09/21/10.  Accessed 11/11/10.  URL.
Regine.  "Cloudscapes by Transsolar + Tetsuo Kondo" We Make Money Not Art. 09/20/10.  Accessed 11/11/10.  URL.