Green Glue Noiseproofing Compound
22 July 2010
2,633 views
2 Comments
I live in an apartment in the city, and while the demising walls between units are relatively stout, it should be noted that I often hear the shrill bark of my neighbor's dog and the skittering sound of scampering paws.  On occasion my upstairs neighbor will take to jumping rope, which produces a curious rhythmic click-slap followed by a kind of "bam!" sound as said neighbor's feet hit the slab above my head.  When I found out about Green Glue Noiseproofing Compound, I wondered what kind of damping effect judicious application throughout my abode might have had on the noise pollution from which I currently suffer. 
According to the product information, "independent lab tests prove that just one layer of Green Glue Noiseproofing Compound between two layers of drywall or other similar building material dissipates up to 90 percent of noise. Unlike competitive soundproofing products, Green Glue Noiseproofing Compound cuts out the low frequency noises commonly produced by home entertainment and theater systems" (Sweets Network).  The compound costs less than .50¢ per square foot and can be used in new and existing construction.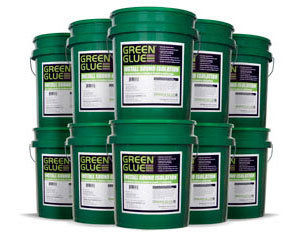 Image Courtesy Sweets Network
Green Glue Noiseproofing Compound can be used in any fire rated assembly according to the International Building Code. It does not contribute to mold growth, is low V.O.C., and has almost no odor. The compound can be easily cleaned up while still wet with soap and water.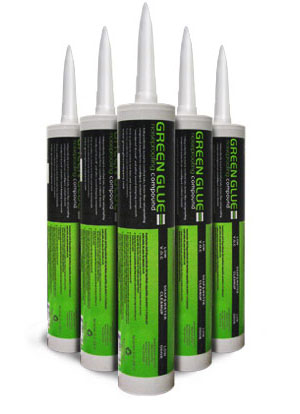 Image Courtesy Sweets Network
If you're inclined to try slathering it betwixt your sheets of drywall, you can purchase Green Glue Noiseproofing Compound by the case (each of which contains 12 tubes) or by the 5 gallon pail. You'll go through 1 – 3 tubes per 4′ × 8′ sheet of drywall depending on desired performance. The coverage of a pail of Green Glue is around 365 sq. feet.
Check out their website: www.greengluecompany.com
Cited:
Shhhhhh… I'm filing this under water.
Sweets Network. "Green Glue Noiseproofing Compound." Accessed 07/14/10.  URL.