Converting Public Steps into Comfortable Outdoor Seating: Il Posto by Miramondo
28 June 2010
5,216 views
No Comment
Piazza dei Signori
in Vicenza, one summer during grad school.  The only complaint I have about public steps is that they're a little rough on the hindquarters if you try to sit in one place for any length of time. 
An Austrian company specializing in designing objects for public places called Miramondo has presented a solution that may prevent the dull ache in the backside that accompanies a stint in a public square: il posto.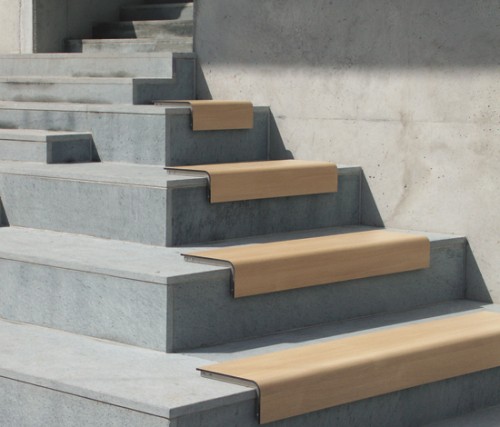 All images courtesy www.architonic.com
Il posto is a seat like a cushion or a blanket that drapes over walls and benches to create comfortable seating, and it comes in three colors.  The seat curves gently from its horizontal to its vertical surface, concealing hard edges.  A stainless steel construction that requires few screws sits beneath the seat, and houses an inflatable cushion that both insulates and provides a comfy place to perch (Source: Architonic).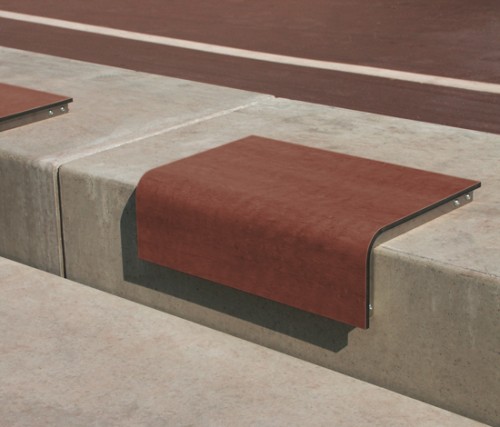 The weatherproof, solid surface of the bench is made of a "duromer high-pressure laminate based on 65% natural fibre plates, pressed with special resin and under high pressure and temperatures" (Architonic).  This is the same wood laminate that you see being used in curtainwalls, according to the product website.  Miramondo also claims that the surface is frost and heat resistant, non-fading, self-supporting and deflection resistant, scratch resistant and impact resistant, and anti-graffiti.
The bench structure consists of stainless steel piping attached to the reverse side of the laminate with "a high-strength polyurethane adhesive to enable the laminate to be screwed to the frame.  The framework is mounted on the surface with two screws and two raw plugs. Six side screws are used to secure the laminate to the framework and these can only be taken apart with a specific tool, thus protecting against vandalism" (Architonic).  I'm not sure what the inflatable cushion is made of or if it can be replaced if it leaks or pops.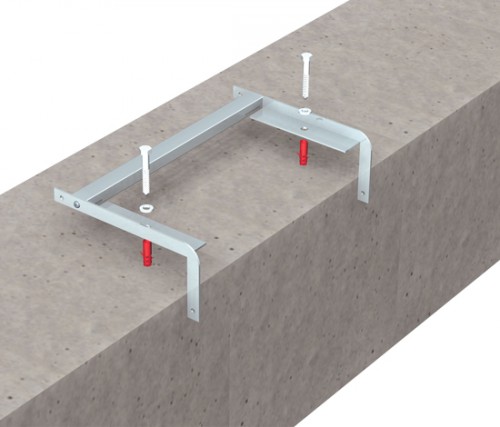 Il posto is the perfect way to turn public steps into comfy benches – I just wish they'd installed a few of those in Vicenza while I was there.
I'm filing il posto under wood because the seat is a wood laminate.
Cited:
"Il Posto, Miramondo." Architonic.com.  Accessed 06/28/10.  URL.
Public steps make me happy.  I'm talking about those large stone or concrete steps that typically line plazas or porches.  They're great places to sit and read, talk, eat lunch, and watch a parade of people thronging past.  Some of the best public plazas I've ever encountered have been located in Italy; I spent hours sketching in one of my favorites, the