Bubble Glass is No Joke!
2 April 2010
4,122 views
No Comment
I've been thinking about bubbles today.  I've been thinking how they are friendly and approachable, associated with sunny days in the park, foam parties, and protective packaging for new glassware.  Soap bubbles are fleeting – one minute they're launching themselves off the end of a little pink plastic wand, the next they're floating through the air, and then … they pop.  Bubblewrap doesn't last long either because it is so tempting to sit around compulsively popping all the air pouches.  Bubbles do stick around when you trap them in something like plastic or glass – which brings me to Bubble Glass: sheets of glass that contain nearly perfect grids of tiny bubbles and delightful bubble patterns.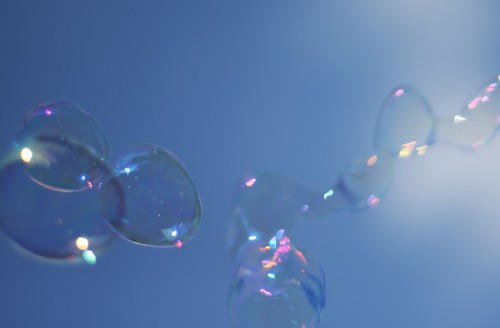 Image courtesy www.jenriks.de
Penny Herscovitch and Dan Gottlieb of PadLAb developed Bubble Glass in "response to an ad on Craigslist.org, the online bulletin board. 'These two guys from L.A. had bought a beach house in Brazil and were looking for someone to do some murals. Their posting was, like, 'Know how to paint on glass? We'll fly you to Brazil.'" (Turrentine).  Down to Brazil the pair went, and while there, Herscovitch and Gottlieb developed a process inspired by traditional styles of Swedish glass blowing wherein they control bubbles to form images and even text within flat glass.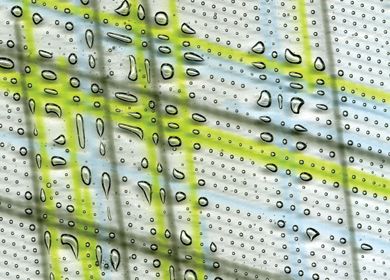 Image courtesy www.transmaterial.net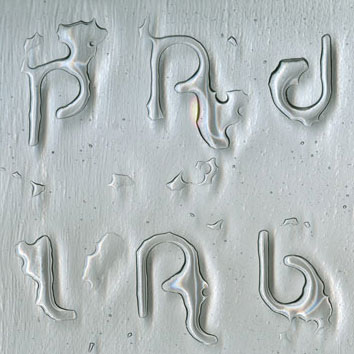 Image courtesy www.architonic.com
Multiple sheets and threads of glass in a variety of colors fuse at 1,450 degrees, trapping air bubbles in perfect, orderly grids. The effect is reminescent of see-through circuit boards, or translucent plaid, according to Herscovitch.  Interestingly, "although the manufacturer controls the patterns of trapped air, each piece of Bubble Glass is unique" (Brownell).  Potential applications for Bubble Glass include lighting, interior room dividers, privacy window and door panels, tabletops, vessels, and fine art (Source: Architonic).
WU XING:
Bubble Glass can be considered a water material because it is fluid and full of bubbles.
Cited:
Architonic. "Bubble Glass Text Pattern PadLAb." Accessed 04/02/10.  URL.
Brownell, Blaine. "Bubble Glass." Transmaterial 10/29/09.  Accessed 04/02/10.  URL.
Turrentine, Jeff. "Through a Glass, Bubbly."  Washington Post 12/30/04.  URL.