My Boo (Lamboo)
31 March 2010
4,059 views
One Comment
"There's always that one [material] that will always have your heart
You'll never see it coming cause you're blinded from the start
Know that you're that one for me, it's clear for everyone to see
Ooh baby aw…
You'll always be my boo" –
My Boo by Usher feat. Alicia Keys
How can you not fall madly in love with bamboo?  It's tall, ridiculously strong, and you can bring it home to your mother.  The source of bamboo's heady blend of charisma and reliability is "its growth system, which generates a root system that produces 30% more oxygen and sequesters 35% more carbon than a like-sized timber forested area. This growth pattern allows bamboo to grow faster and straighter than any known tree species, meaning a shorter maturity period, i.e. a more renewable resource" (Smith).  Additionally, this wondergrass can be found sprouting away on nearly every continent, which means it's nearly always geographically desirable.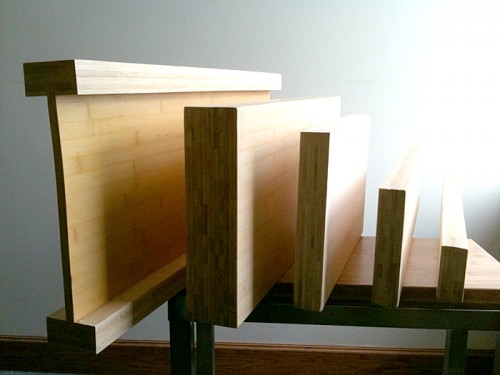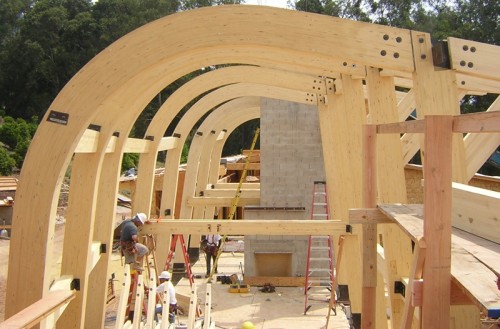 Images courtesy Lamboo
Bamboo can be used for flooring, furniture, and now there's a new structural material made from LAMinated bamBOO called Lamboo (get it?).  Lamboo has been developed by Lamboo Inc. (a research, development and manufacturing company working to produce sustainable design technology).  It reportedly "outperforms traditional structural materials as well as reducing environmental impact. Lamboo has three times the structural capacity of timber, achieving longer spans with less material. The use of Lamboo in a project can add up to four LEED credits for rapidly renewable materials, low-emitting materials, environmentally preferable materials and lifecycle/environmental impact" (Smith).  Think of it as a greener alternative to glu-lam with a little more span and a lot more pizazz. 
WU XING:
This is a no-brainer: wood. 
Cited:
Smith, Amanda. "Structural Bamboo by Lamboo Inc. Greens the Heart of Construction." 3rings 03/22/10.  Accessed 03/31/10.  URL.