Le Cageot: Repurposed Wood Pallets
18 March 2010
8,360 views
No Comment
One of the really nice thing about living and working in the United States is that individuals have the right to buy in bulk.  If you need six pounds of Country Time Lemonade mix, then you can go buy a six-pound canister.  If you want 48 pairs of identical tube socks, then you can purchase them in a neatly shrink-wrapped package.  Need a gallon of Vidal Sassoon shampoo or 60 grapefruit?  No problem.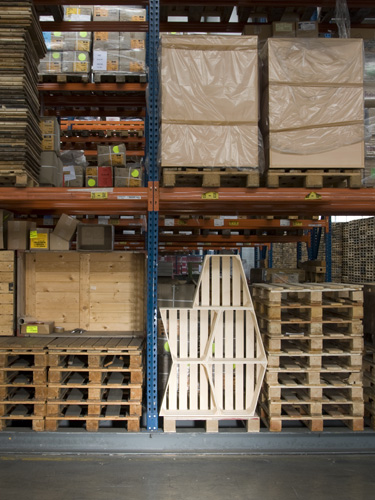 Image courtesy Inhabitat.com
None of this bulky goodness would be possible without a humble, often overlooked construction: the wood pallet.  The pallet is the "structural foundation of a unit load," meaning that it creates storage and handling efficiencies that make the global system of train transport, cargo shipping, and trucking possible (Source: Wikipedia).  What I'm saying is, without wood pallets, there would be no America.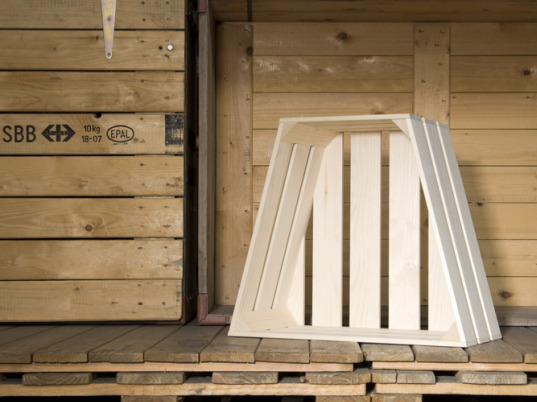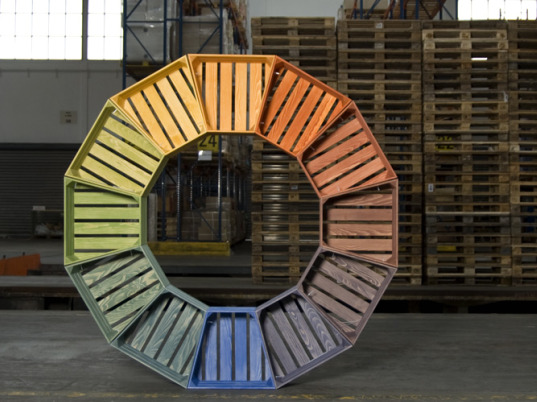 Images courtesy Inhabitat.com
When wood pallets have outlived their usefulness, they're usually discarded.  But thanks to Swiss designer Sibylle Stoeckl, we've got a new way to repurpose old wood pallets: we can use them as furniture!  She's developed a series called Le Cageot, which takes standard crates and turns them into modular pieces that stack and combine into a variety of shapes and sizes (Pham).  Le Cageot comes in all sorts of colors, and the crates can be used as stools, coffee tables, or shelves.  If you're into stacking (hey – some people like to stack things) then you can try to beat the current record of 3.6 meters worth of stacked Le Cageot, set recently in Geneva (Source: Sibylle Stoeckl).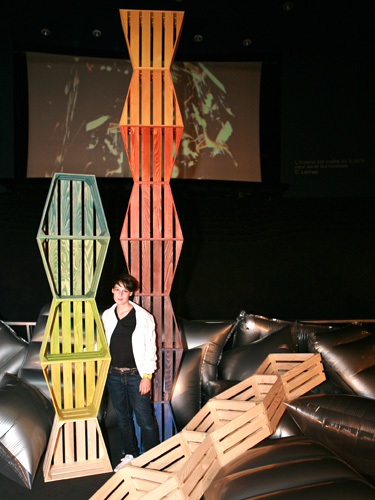 Image courtesy Inhabitat.com
WU XING:
This wood is wood, baby!
Cited:
Pham, Diane.  "Wood Pallets Repurposed into Modular Furniture." Inhabitat 02/24/10. Accessed 03/18/10.  URL.