Bio Glass
3 March 2010
4,057 views
One Comment
bio-"
should signify that the material is somehow alive.  But perhaps I'm being needlessly particular about my prefixes (and you know, it wouldn't be the first time).  After all, slabs of Bio Glass
do
look like they're made out of compressed jellyfish.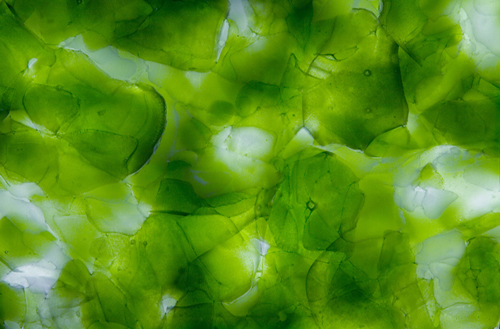 Image credit coveringsetc.com
So now, I'm sure you're wondering, exactly what Bio Glass is when it's at home?  It's a solid surfacing for counter tops, walls, floors, and other applications.  Bio Glass is "made from 100% recycled glass, heated and agglomerated under pressure. There are no binders, colorants, fillers, or other admixtures. Depending on color, the product is either pre- or post-consumer, or a blend. The translucent, nonporous material is available as 110-inch by 47-inch slabs, about 4.7 inches thick with a lightly textured, slip-resistant surface; smooth-surfaced slabs are also available, at approximately 4 inches thick" (GreenSpec).  In other words, they've taken old beer bottles and glass plates and compressed/fused them in to lovely mottled-looking glass slabs.  When you're done using your slab you can recycle it back into bottles!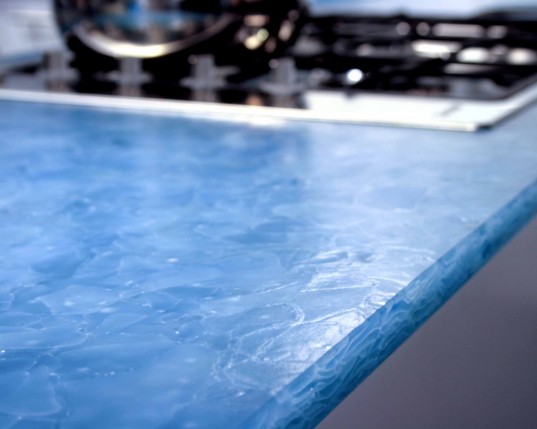 Image courtesy Inhabitat
According to their website, Coverings ETC's Bio-Glass ceramics can be sawn and drilled with water-cooled diamond tools at the construction site.  The surface is closed, meaning it can be cleaned with traditional cleaning agents and solvents.  I'm wondering how brittle are these slabs?  What happens if you drop a cast-iron skillet on your counter top?  (Not that I've ever done that).
WU XING
This fused glass material falls into the wood category because that's where I store glass.  But I'm going to add it to fire as well because of the recycling.
Cited:
"Bio Glass."  Greenspec – Building Green 02/15/07.  Accessed 03/03/10. URL.
Yoneda, Yuka. "Bio Glass is a Gorgeous, Translucent, 100% Recycled Surface." Inhabitat 02/16/10. Accessed 03/03/10. URL.
I'm not sure why this product is called "Bio Glass" because to me using the prefix "