Concrete Cloth
2 February 2010
10,108 views
One Comment
It's probably not a good idea for another architect to be spreading the word about a "building in a bag" developed by architects and Concrete Canvas co-founders Peter Brewin and William Crawford, but it's just such a clever and useful concept that I can't keep it to myself.  Besides, they're not very pretty (the buildings – I haven't laid eyes on Peter Brewin or William Crawford) so I don't think we'll be officing or living in Concrete Canvas Shelters except under the most extreme circumstances:  the local design review board starts experimenting with peyote for example, or suddenly people only want buildings that look like trilobytes.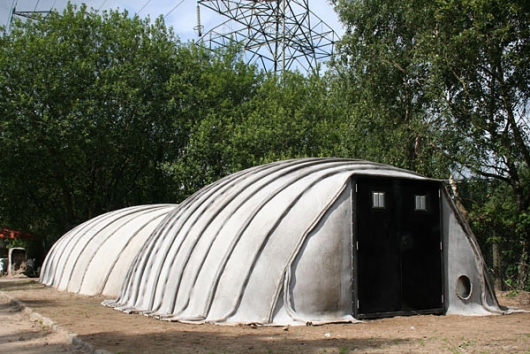 Image courtesy MaterialConneXion.com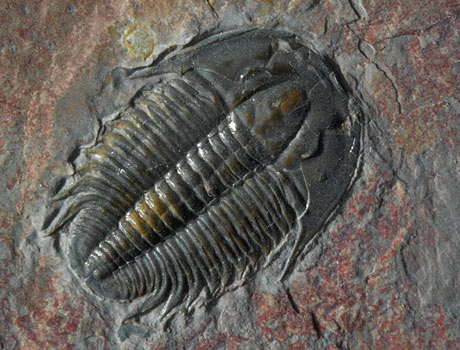 Image courtesy theguardian.co/uk
So what makes a 54 square-meter, "rapidly deployable hardened shelter that requires only air and water for construction" possible?  You're probably thinking, "magic," but in this case it's a "groundbreaking, cement-impregnated flexible fabric known as Concrete Cloth" (Zingaro).  This stuff is fire-proof, waterproof, moldable, drapeable, durable and all around crazy-useful.  Concrete cloth is bonded to the outer surface of a plastic inner lining to create the structures.  When inflated, these materials constitute a surface optimized for compressive loading; thin-walled concrete structures are consequently both strong and lightweight.  The entire Concrete Canvas Structure (CCS) can be inflated by two untrained people in under an hour.  Twenty-four hours are required to cure the concrete but after that your CCS is ready for up to ten years of use (Source: Concrete Canvas).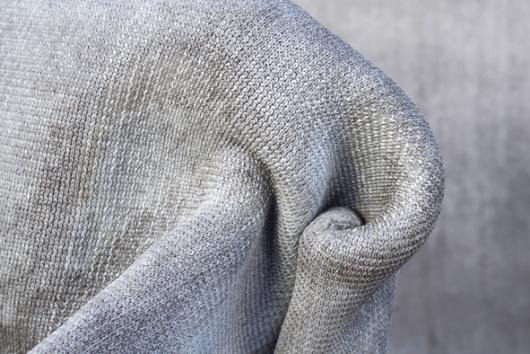 Concrete Cloth comes rolled in long bolts and you no longer need to buy a CCS to get your hands on it.  It's amazing that it took so long for people to develop this material given the extraordinary range of applications:  "gabion reinforcement, sandbag defenses, ground surfacing/dust suppression, ditch lining, landing surfaces, formwork, spill containment and landfill lining, waterproofing, building cladding, boat ramps, erosion control, roof repair, water and septic tanks," and more (Concrete Canvas).  It's also important to note the potential for creating quick shelters in disaster situations.  Does anyone know if Concrete Canvas Shelters have been deployed in Haiti?
WU XING:
Concrete cloth is earthy and utilitarian.  It's fireproof and waterproof.  It's also thin and flexible – although I would guess it is not at its best in tension.  I've placed it in the earth and water categories although it could also be considered metal (see photo above) because it holds water.  What do you think?
Cited:
Zingaro, Alison. "Medium award for material of the year" Material ConneXion.  Accessed 01/28/10.  URL.