Fungus Among Us
8 February 2010
6,379 views
One Comment
fairy rings
creep me out.  Those little ridges on the underside of mushroom caps remind me of dirty filters on air conditioning units; I don't like how they're spongy and dense, or how mushrooms taste like soil.  They live on dead things and grow in damp, dark places.  It's not that I have fungi phobia, but I generally do what I can to avoid the whole kingdom.
Image courtesy Philip Ross
The attitude of Philip Ross, artist/inventor/mycologist/actor/model (sorry, he's not an actor/model – I got carried away), stands in stark contrast to my own.  He actually loves spending time with mushrooms, seeking them in massive quantities on a farm near Monterey, CA called Far West Fungi.  The farm grows shiitake, reishi, pig's ears, corn smut, and many other equally vividly-named varieties in dirt-free hothouses.  Now, you may be asking yourself: "why are we talking about a mushroom farm?  I came here for information about architectural materials and here I am craving Beef Stroganoff." 
Take a nice deep breath and calm yourself.  Philip Ross works with the non-food portion of these mushrooms – the thin, white root-like fibers that extend down and out to form a vast, bright white, spongy network called a mycelium (Fisher).  Mycelium, despite being absurdly gross visually, has some fantastic properties:  it's "nontoxic, fireproof and mold- and water-resistant, and it traps more heat than fiberglass insulation. It's also stronger, pound for pound, than concrete" (Fisher).  Ross has been growing mushrooms in plastic-lined, unitized containers without any dirt, effectively creating building blocks out of mycelium.  He grew 500 such blocks out at Far West Fungi in order to build a structure out of them.  The construction is called Mycotectural Alpha, and can be seen in the photo below or in Germany as part of  "Eating the Universe. Food in Art" showing through February 10 at Frankfurt Städelschule (Source: Mycorant.com).  You can see more mycelium and Ross' work at his website and on his ??flickr set.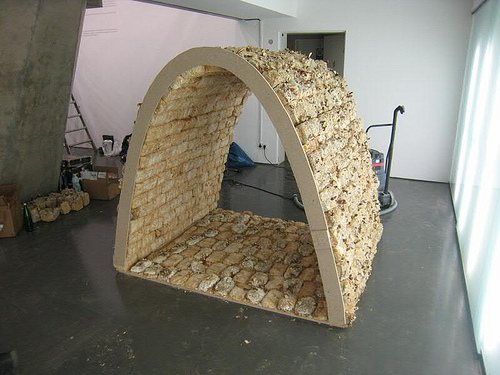 Image courtesy Philip Ross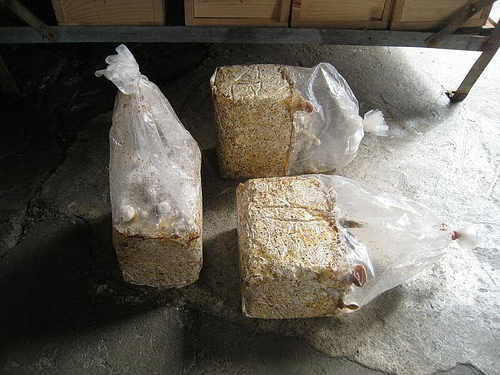 Image courtesy Philip Ross
Ross isn't the only one who sees fungus as building material for the new millenium, a new wood-like equivalent to plastic.  Ecovative, a three-year old startup building a new "myco-factory" in Green Island, NY is developing a few mycelium-based materials.  To make their first product, Ecocradle – a green (biodegradable) alternative to Styrofoam – the company obtains empty seed husks from rice and cotton that can't be eaten by animals; cooks them; sprays them with water, myco-vitamins, and mushroom spores; places them into molds; and lets them grow into the desired shape in the dark for a week or two.  After popping the finished product out of the molds, they render the mycelium biologically inert (Fisher).  I don't know what "rendering something biologically inert" entails but I hope it never happens to me because it sounds like it might involve a taser.
Ecovative's next product, Greensulate, will begin targeting the home-insulation market sometime next year.  Developed by two recent graduates from Rensselaer Polytechnic Institute (where the dorm rules about growing mushrooms under your bed are refreshingly lax), early testing indicates Greensulate has  insulating value comparable to fiberglass.  The material is inexpensive to produce because it's a mixture of flour, water, minerals, and mushroom spores that is spread on sheets and left to harden into a kind of foamy mesh.  It's biodegradable as well (Source: Blueegg.com). 
So after learning about the possibilities of mycelium-based building materials, I might be a little more willing to invite a mushroom to the party … turns out he's kind of a fun guy. BWAHHHAHAHAHAH!
WU XING: 
I'm placing Ecocradle products and Mycoarchitecture in the wood category because they can mimic the properties of plastic.  They're also going into earth because this is the most "rooted" material I've come across to date.  What do you think?
Cited:
Fisher, Adam. "Industrial-Strength Fungus." Time.com 02/08/10.  Accessed 02/07/10.  URL.
"Mushroom Insulation is No Hallucination."  Blueegg.com.  Accessed 02/07/10.  URL.
"Mycotecural Alpha."  Mycorant.com 01/28/10.  Accessed 02/18/10.  URL.
I have a confession to make.  I'm not proud to admit this, but I can't keep it to myself any longer: I do not like fungus.  There!  I said it!  I don't like mushrooms on my pizza and