Chromazone Thermostar Ink
27 January 2010
5,231 views
No Comment
I'm completely obsessed with thermochromatic ink.  I'm obsessed with ink in general, ever since my undergraduate days in the print shop in Walsh.  But I am especially obsessed with thermochromatic ink – and not just because it's how I know whether my beer is cold enough.  Thermochromatic ink changes color when the temperature drops above or below a specific threshold.  I found this lovely and slightly dense explanation of how this happens while I was looking at Chromazone Thermostar Ink the other day:
"ChromaZone is a microencapsulated thermochromic pigment which changes from colour to colourless as the temperature rises. With decreasing temperature the colour returns. The pigment is encapsulated in aqueous conditions and the resultant pigment is in slurry form….  Due to their chemical and physical properties the visible colour change of ChromaZone pigments occurs over a temperature range of approximately 5ºC and additionally shows a thermal hysteresis. This means that the colour starts disappearing before reaching the relevant response temperature and at the ensuing temperature decrease requires a significantly lower temperature to regain full colour strength."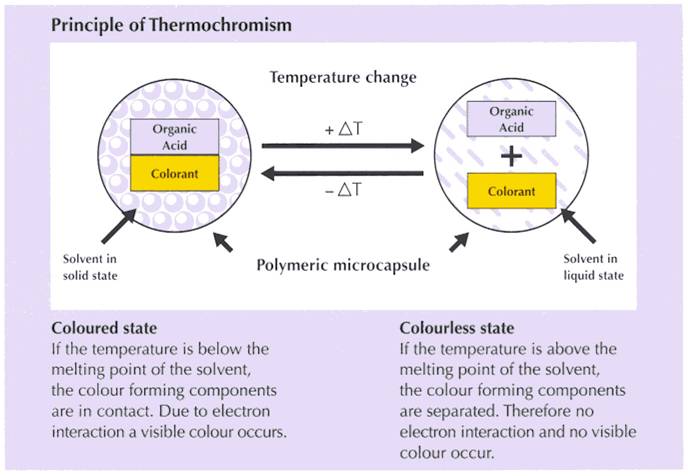 Image courtesy chromazone.co/uk
Hopefully that explanation did not produce a cerebral hysterisis, and we are all ready to move on to an interesting application for thermochromatic inks: wallpaper!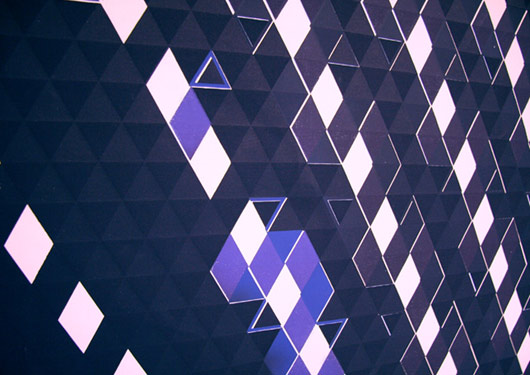 Image courtesy nextnature.com
Designer Josien Pieters used thermochromatic ink to create a prototype of a dynamic wallpaper for a project called Between You, Me, and the Wall that explores the potential of ambient information decoration.  The wallpaper allows people to get a general sense of how busy they are during the week by gazing at the abstract pattern of triangles that appear.  Within the pattern, every yellow shape represents an hour of the week.  Dark purple elements change color to a sort of lighter purple-blue when there is something scheduled (Source: Mensvoort).  The change in color is produced by heating pads that sit between the ink-coated paper and the wall.  These are activated by a "phidget interface kit" that connects the heating pads to a laptop, so that the data from a Microsoft Outlook calendar generates the pattern and it can be updated at any time (Pieters, 36).  I'm not sure what a phidget interface kit is exactly, but I want one.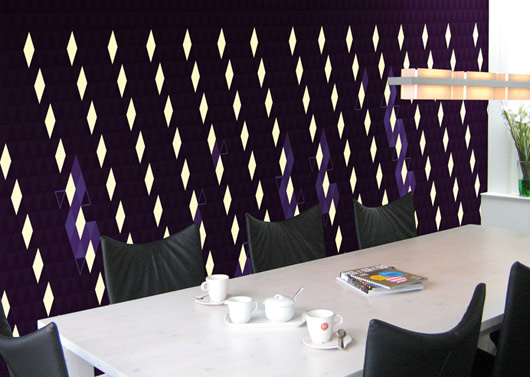 Image courtesy nextnature.com
Artist Shi Yuan has also created a prototype thermochromatic wall paper, based on heat sensitivity technology and meant delight the the viewer.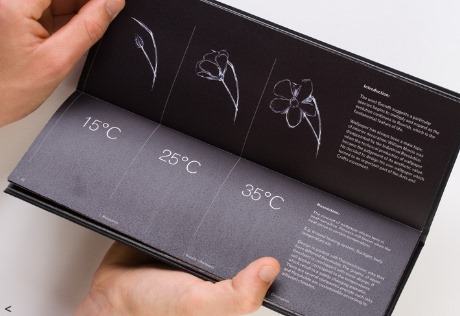 Image courtesy techpin.com
The paper displays a flower in 3 phases.  When the temperature reaches a certain limit, the flower begins to bloom.  When the temperature gets a little hotter, the flowers bloom uproariously (Source: Techpin).  I'm not sure if this project protoype was actually produced or if it was merely rendered, but I very much like the idea of a spot of springtime near the heater in winter.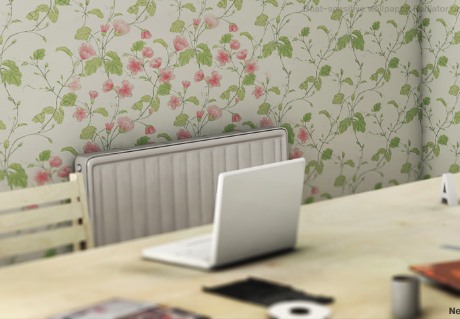 Image courtesy techpin.com
WU XING:
I wasn't sure whether thermochromatic ink would fall under water, because ink is fluid and thin and can take on different forms – or if it would be better categorized as a fire material because of the color change that happens with heat.  But then I remembered that I can do whatever I want and I put it in both categories.  HA!
PS – I am planning to try to get some of this ink and work with it – I have an idea.  Check out the lab to see some of my crazy experiments…
Cited:
B., Sierra Monica. "Thermochromic."  Techpin.com 05/26/08.  Accessed 01/26/10. URL.
Mensvoort, Koert van. "Agenda Wallpaper." NextNature.com 01/26/09.  Accessed 01/26/10. URL.