Color-Change Tech for Lenses could turn Buildings into Chameleons!
19 July 2011
7,247 views
3 Comments
Say what you will about the 1990's, the decade produced some severely under-appreciated and entirely too short-lived cultural moments: I mean, Hammer pants? Titanic? Come on – you know you loved it!  Another phenomenon of the 1990's that in some ways is slightly less exciting than the OJ Simpson trial, but which has stayed with us to this day is: green-tinted glass.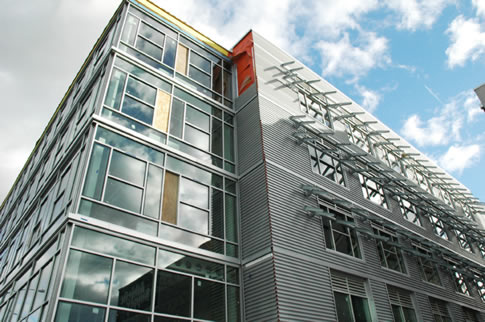 Image courtesy metaefficient.com
No one knows exactly how it started, but I imagine that sometime in the 1990's, an architect somewhere in the world specified green-tinted glass for the fenestration on a prominent building. This building was probably published in a print magazine that a lot of other architects read, and somehow, without even knowing what was happening, they all suddenly wanted to use green glass on their projects too.  I completely understand: the exact same thing happened to me when I was reading Elle and saw that Heidi Klum decided to cut bangs (and yes, mine are still growing out).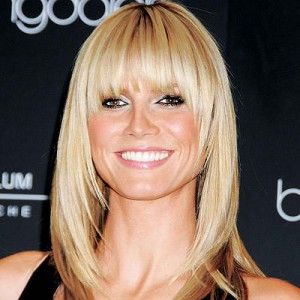 Image courtesy instyle.com
What if there was a way to have your green glass cake when it felt trendy, and then not have the same cake twenty years later when it was moldy and dated, and kind of sad looking?  I think perhaps there is!
I recently learned that a University of Connecticut scientist has developed a method that allows films and displays to change color.  The obvious application for this technology is sunglasses, and everyone from Hollywood stars to the U.S. military are interested in lenses that respond to changes in the environment to make it easier to see (or be seen).
Typical transition lenses use photochromic films, which are sheets of polymers that change color when light hits them. The new color-changing technology uses electrochromic lenses; these are controlled by an electric current passing through them that adjusts when triggered by a stimulus such as light (Physorg.com). The arrangement is similar to a double-pane window with a gel sandwiched between the glass.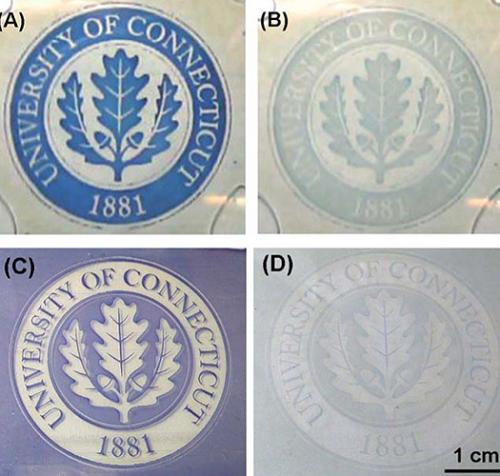 Image courtesy physorg.com
That's what got me thinking that this material, which can change color as quickly as electricity can travel through it (ie instantaneously) could be great for buildings.  The polymer used by the scientists creates less waste and is less expensive to produce than previous mixtures, which is good because for an architectural application, you'd need a lot of it!
I have filed this under fire because electricity creates the color change, and under wood, because it's a polymer.
Cited:
"A Better Way to Photo Gray: New Technology Allows Lenses to Change Color Rapidly." Physorg.com 07/12/11. Accessed 07/15/11. URL.